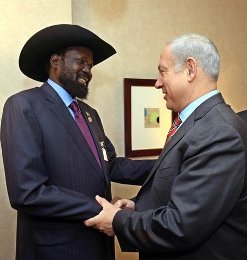 September 23, 2011 (KHARTOUM) – The president of South Sudan Salva Kiir met on Thursday with Israeli Prime Minister Benjamin Netanyahu on the sidelines of the United Nations General Assembly meetings in New York.
"South Sudan was established after long negotiations and with the agreement of all parties involved and the international community. Israel was among the first countries to recognize South Sudan, less than 24 hours after it was declared, and will be pleased to contribute knowledge and experience to it in a variety of fields that can help the new country," Netanyahu said.
South Sudan became an independent state last July after its citizens voted overwhelmingly in favor of separation from the Arab-Muslim dominated north. The referendum was stipulated in the 2005 Comprehensive Peace Agreement (CPA) signed between North and South Sudan.
South Sudan among many nations has pledged to support the Palestinian bid at the United Nations. It is not clear if Netanyahu sought persuade Kiir not to do so.
Israel is home to thousands of Sudanese refugees, including hundreds from South Sudan, and the country's independence was greeted with celebration parties in Tel Aviv, home to much of Israel's Sudanese community.
The Jewish state promised to assist South Sudan n areas of infrastructure, communications and agriculture.